VILTROX Global Photo Contest 2023 Winner Announcement

First Prize
Nico Cornelius-Viltrox AF 23/1.4 XF-Umbrella Art and Crafts

Second Prize
Fredy Wijaya - Viltrox AF 85/1.8 XF - Loyalty Bound
张捷明-Viltrox AF 23/1.4 Z- Charcoal for a Living

Third Prize
CarolinaTolomeo-Viltrox AF 85/1.8 Z-Eyes
Javier Barba-Viltrox AF 13/1.4 E-The Ground Burns
Mohd Hafizan Ilias -Viltrox AF 85/1.8 Z- Cooling a Rooster
陆不喝-Viltrox AF13/1.4 E-Milky Way & Sea of ​​Clouds
肖遥-Viltrox AF 13/1.4 XF-Yuanyang Building

Finalist Prize
Mark Anthony Agtay-Viltrox AF 13/1.4 XF-Old Charcoal Worker
Mg Prime-Viltrox AF 85/1.8 XF-Waiting for the Rain
陈灿铭-Viltrox AF 16/1.8 FE-Victoria Harbor Night
宋贤-Viltrox AF 85/1.8 FE II - "Starry Sky of Mount Domla"
吴嘉榕-AF Viltrox AF 35/1.8 Z-Rain Like a Waterfall
-------------------------------------------------------------------------------------------------------------

Award-winning works display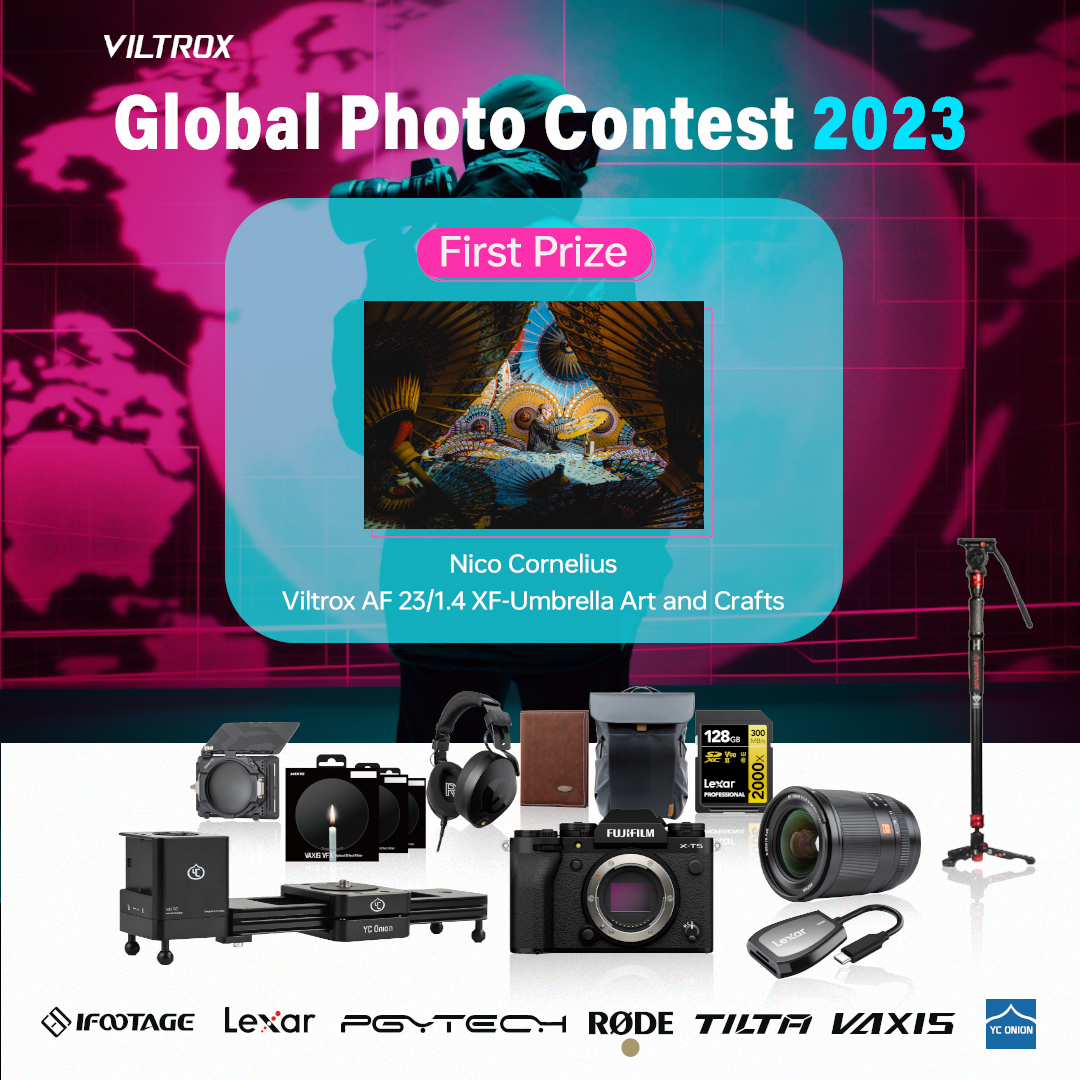 First Prize
Name: Nico Cornelius
Gear: Fujifilm XT-4 +Viltrox AF 23/1.4 XF
Date: June 7th,2023
Theme: Umbrella Art and Crafts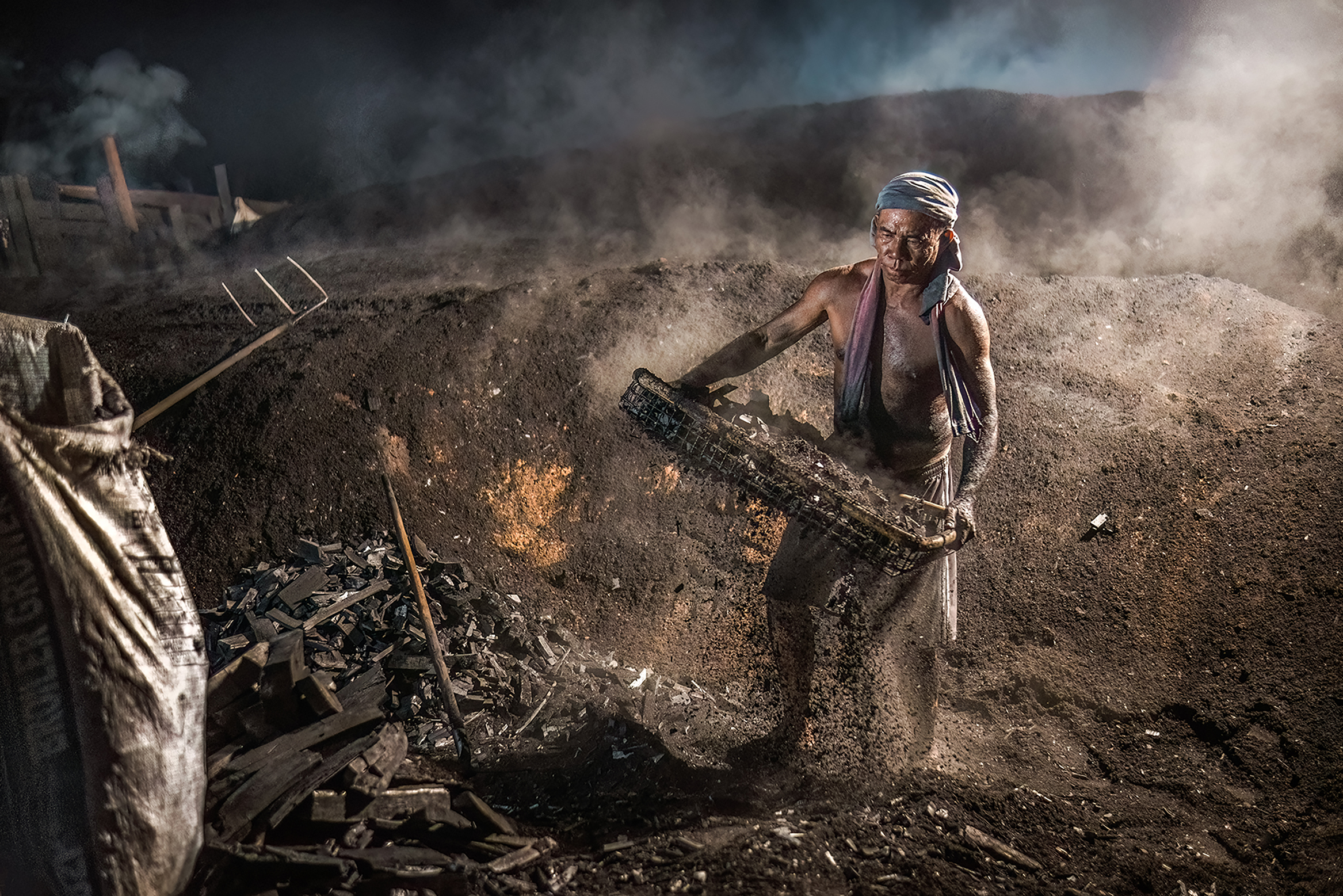 Second Prize
Name: 张捷明
Gear: Nikon ZFC+Viltrox AF 23/1.4 Z
Date: May 28th,2023
Theme: 炭讨人生(Charcoal for a Living)
Creative Intent:露天炭窑,顾名思义就是没任何遮盖的火炭工厂。窑里工人每天都扛着日晒雨淋之苦,辛勤工作就只为一家老小的饭香。我和太太凌晨摸黑探厂,为的是兴趣,窑里工人贪黑,为的却是糊口。简单的一块火炭,制作起来一点都不简单,过程就不提了,烧一个窑流程需要一个多月时间,工人们筛炭,一般都选择夜半,没特别原因,主要是夜里凉快,工作到天亮就开始一些只能在白天才能做的工作。曾问过窑里一位师傅是否想过改行,他说念书少,一辈子就只会制炭,心血来潮就为作品各自取名为(炭锁人生)和(贪黑。炭黑)(Open-air charcoal kilns, as the name suggests, are charcoal factories without any cover. The workers in the kiln are exposed to the sun and rain every day, and their hard work is only for the family's food. My wife and I visited the factory in the dark in the early morning for fun, while the kiln workers were in the dark for their livelihood. A simple piece of charcoal is not easy to make, so I won't mention the process. It takes more than a month to burn a kiln. The workers usually choose the middle of the night to sieve the charcoal. There is no particular reason, mainly because the night is cool and they work until dawn. Start some work that can only be done during the day. I once asked a master in the kiln if he thought about changing his career. He said that he had little study and would only be able to make charcoal all his life. )

Second Prize
Name: Fredy Wijaya
Gear: Fujifilm XH2+AF 85/1.8 XF
Date: June 8th,2023
Theme: Loyalty Bound
Creative Intent:This picture describes the loyalty that brings the doves back to its owner after going far or venturing outside. It portrays a close relationship between the doves and its owner, where the dove's loyalty to its owner leads to returning home and seeking refuge in the embrace of the master.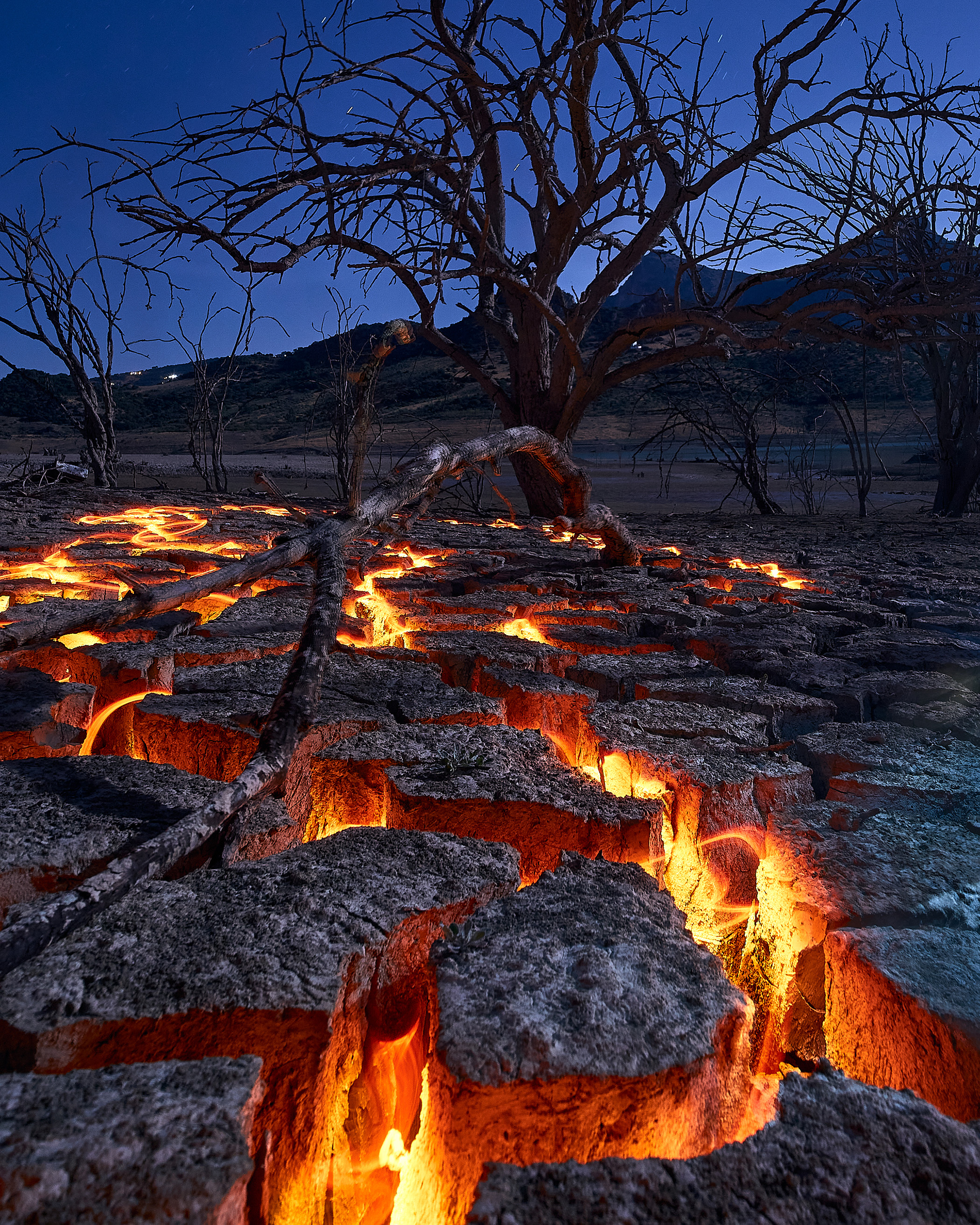 Third Prize
Name: Javier Barba Reina
Gear: Sony A6000+ AF 13/1.4 E
Date: September 10th,2022
Theme: The Ground Burns
Creative Intent:It is a long exposure photograph that shows the effects of the drought in Spain, cracked land where there should be water.The photograph is made using the light of the full Moon to illuminate the scene, to create the lava effect I used a flashlight with a warm filter tied to a piece of wood, when the flashlight passed the beam of light, due to the long exposure, looks like magma.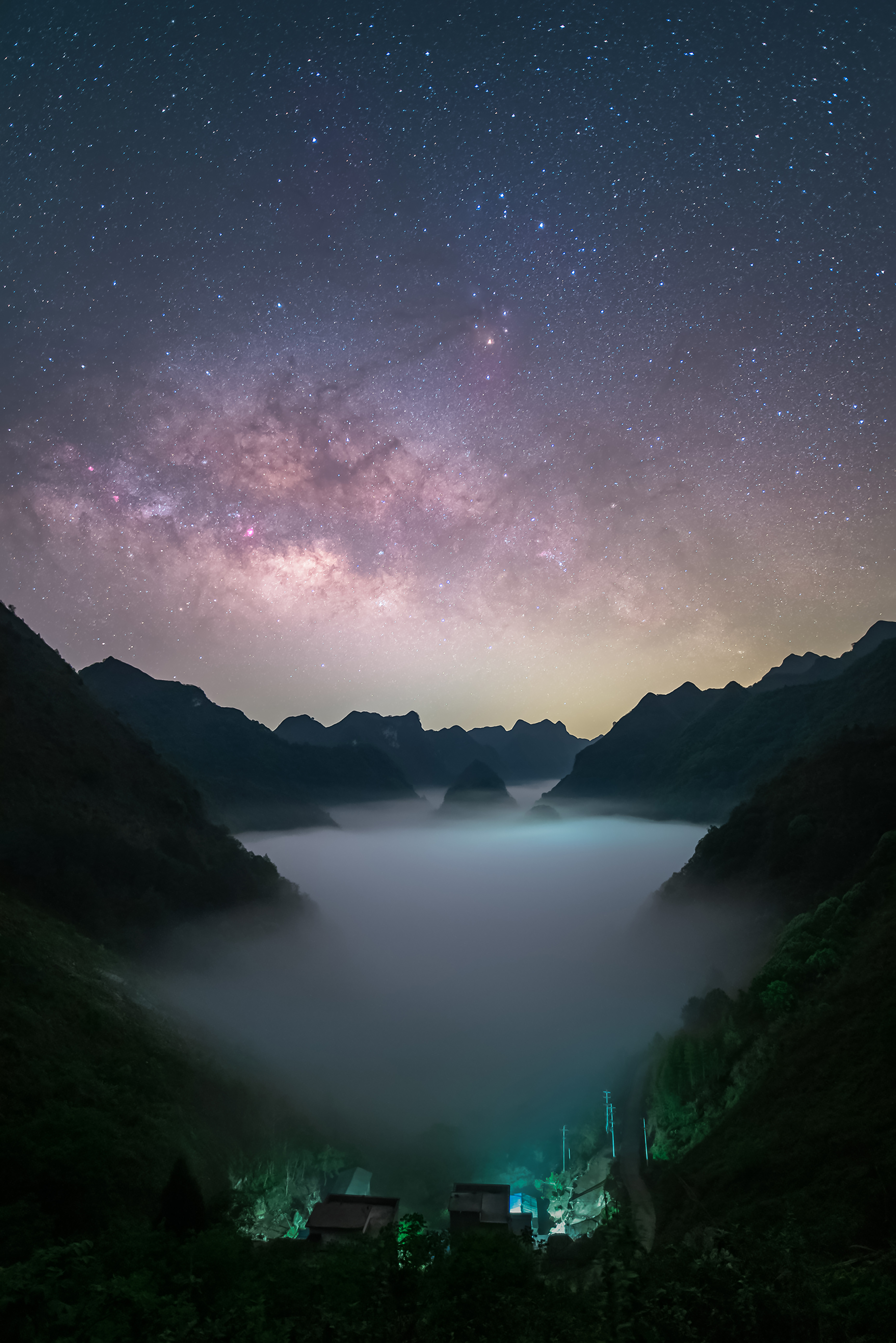 Third Prize
Name: 陆不喝
Gear: Sony A7R3+Viltrox AF 13/1.4 E
Date: April 16th,2023
Theme: 喀斯特地貌上的云海银河(Milky Way & Sea of ​​Clouds)
Creative Intent:广西难得的晴天,临时决定从南宁连夜驱车200km赶到七百弄。计划拍摄银河在喀斯特地貌上升起,却意外遇见了一场云海。2023年4月16日摄于 广西 河池大化县七百弄。索尼a7r3(改机) + 唯卓仕13 1.4,ISO 3200,f/1.4,单张曝光20秒,40张堆栈。(On a rare sunny day in Guangxi, it was temporarily decided to drive 200km overnight from Nanning to Qibailong. I planned to shoot the Milky Way rising on the karst landform, but unexpectedly encountered a sea of ​​clouds.)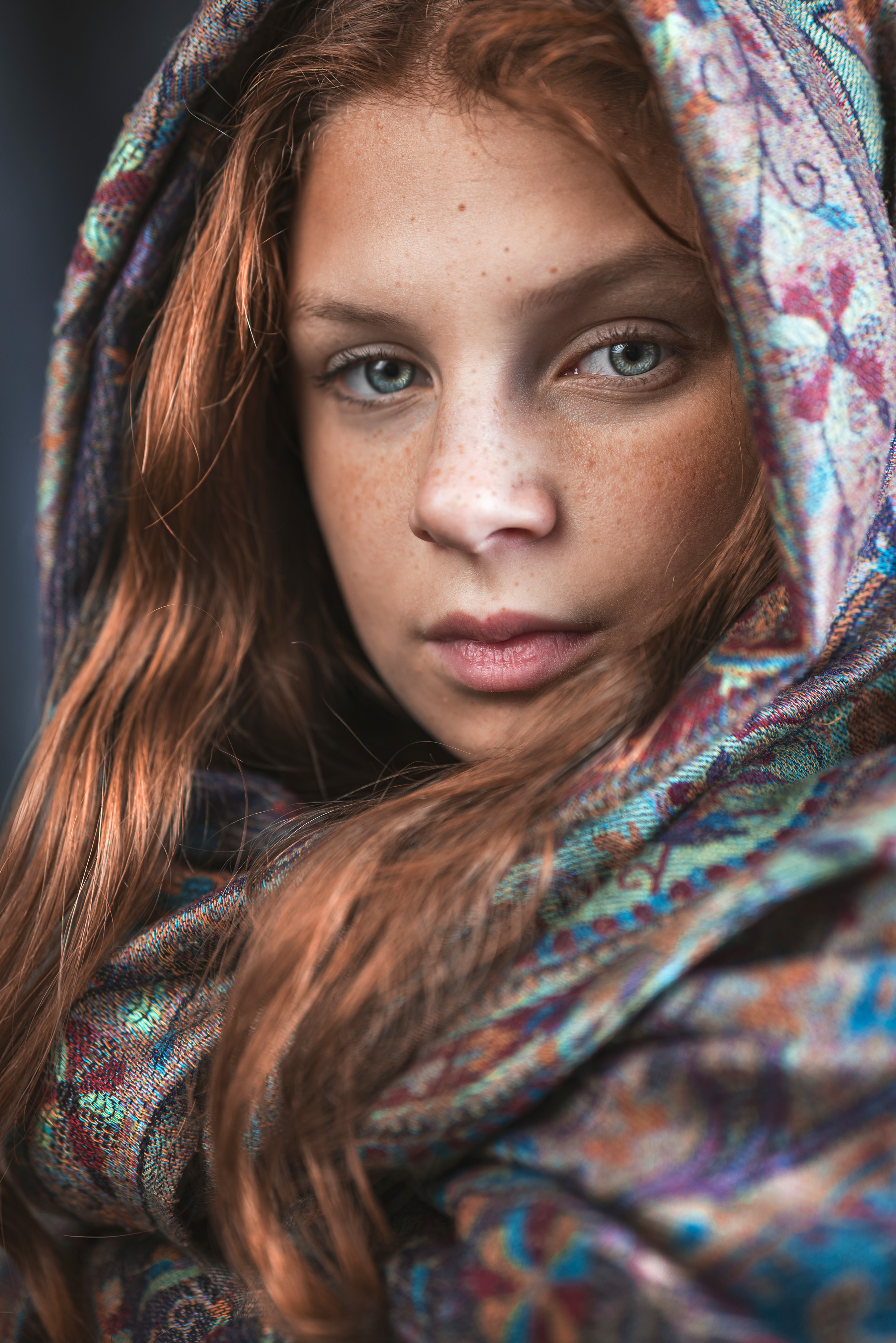 Third Prize
Name: Carolina Tolomeo
Gear: Nikon Z5+Viltrox AF 85/1.8 Z
Date: November 11th,2022
Theme: "Eyes"
Creative Intent:with this photo I wanted to pay homage to Steve McCurry.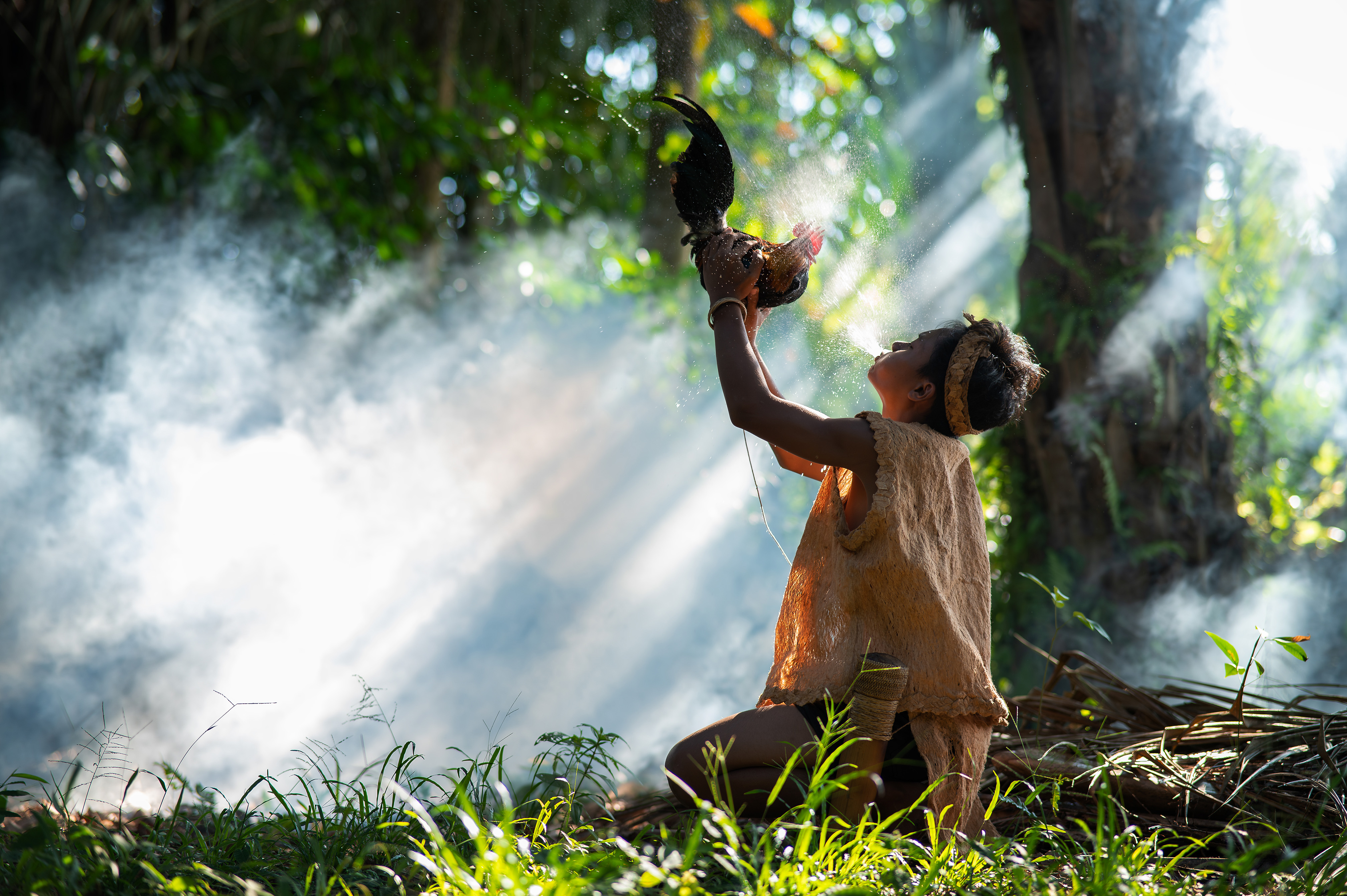 Third Prize
Name: Mohd Hafizan Ilias
Gear: Nikon Z6 ii+Viltrox AF 85/1.8 Z
Date: June 10th,2023
Theme: Cooling a rooster
Creative Intent:A boy from Temuan Tribe of Malaysian indigenous cooling his pet (rooster) with water in the beautiful nature scenery at Tadom hills, Selangor, Malaysia.

Third Prize
Name: 肖遥
Gear: Fujifilm XT-4+Viltrox AF 13/1.4 XF
Date: July 23th,2022
Theme: 鸳鸯楼(Yuanyang Building)
Creative Intent:鸳鸯楼是南宁市老城区里的老旧建筑,也是本地有名的网红打卡景点。社交网络上出现的鸳鸯楼,大多是用浓厚的滤镜营造出一种破败感,我也一直在思考:要如何把一个被人拍了无数次的地方,拍出我的个人风格。终于在某个晴天,我长途跋涉,亲自去了一趟。到达鸳鸯楼的时候,阳光正好,肉眼见到的色彩有点让我惊艳——这明明不是别人拍的那般老旧残破模样。那一刻,我已经想好要怎么拍了。高端的食材往往只需要最朴素的烹饪方式,于是后期时我选择还原肉眼所见,仅做了包围曝光和色彩上的微调,将这栋建筑拍出了些许动漫感。(Yuanyang Building is an old building in the old city of Nanning , and it is also a well-known local Internet celebrity check-in attraction. Most of the mandarin duck buildings that appear on social networks use thick filters to create a sense of dilapidation, and I have been thinking about how to capture my personal style in a place that has been photographed countless times. Finally, on a sunny day, I made a long trek and went there myself. When I arrived at the Mandarin Duck Building, the sun was just right, and the colors I saw with the naked eye surprised me a bit—this is obviously not the old and dilapidated appearance that others took. At that moment, I had already figured out how to shoot. High-end ingredients often only require the simplest cooking methods, so I chose to restore what I saw with the naked eye in post-production, and only made bracketing exposure and fine-tuning the color to make this building look a bit like animation.)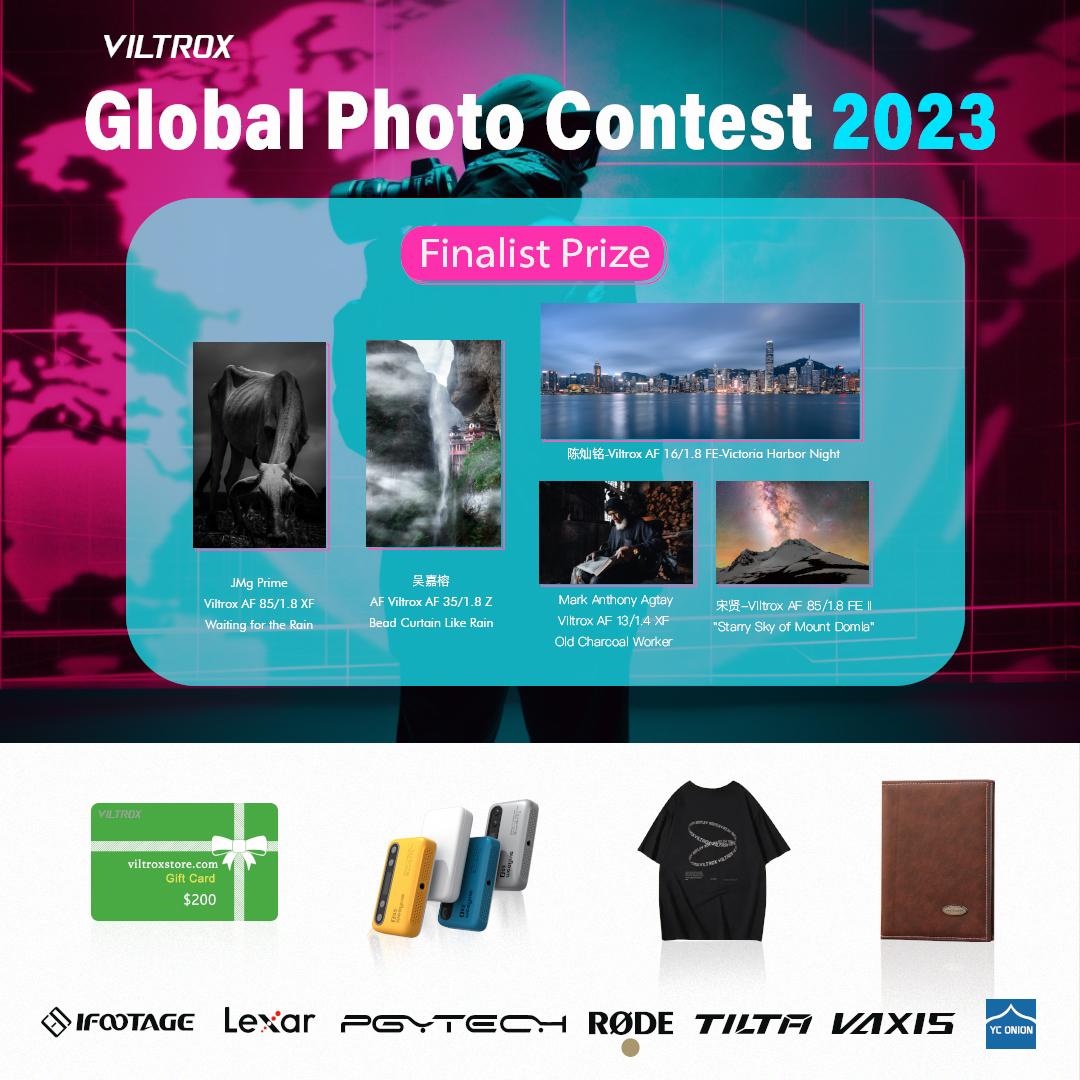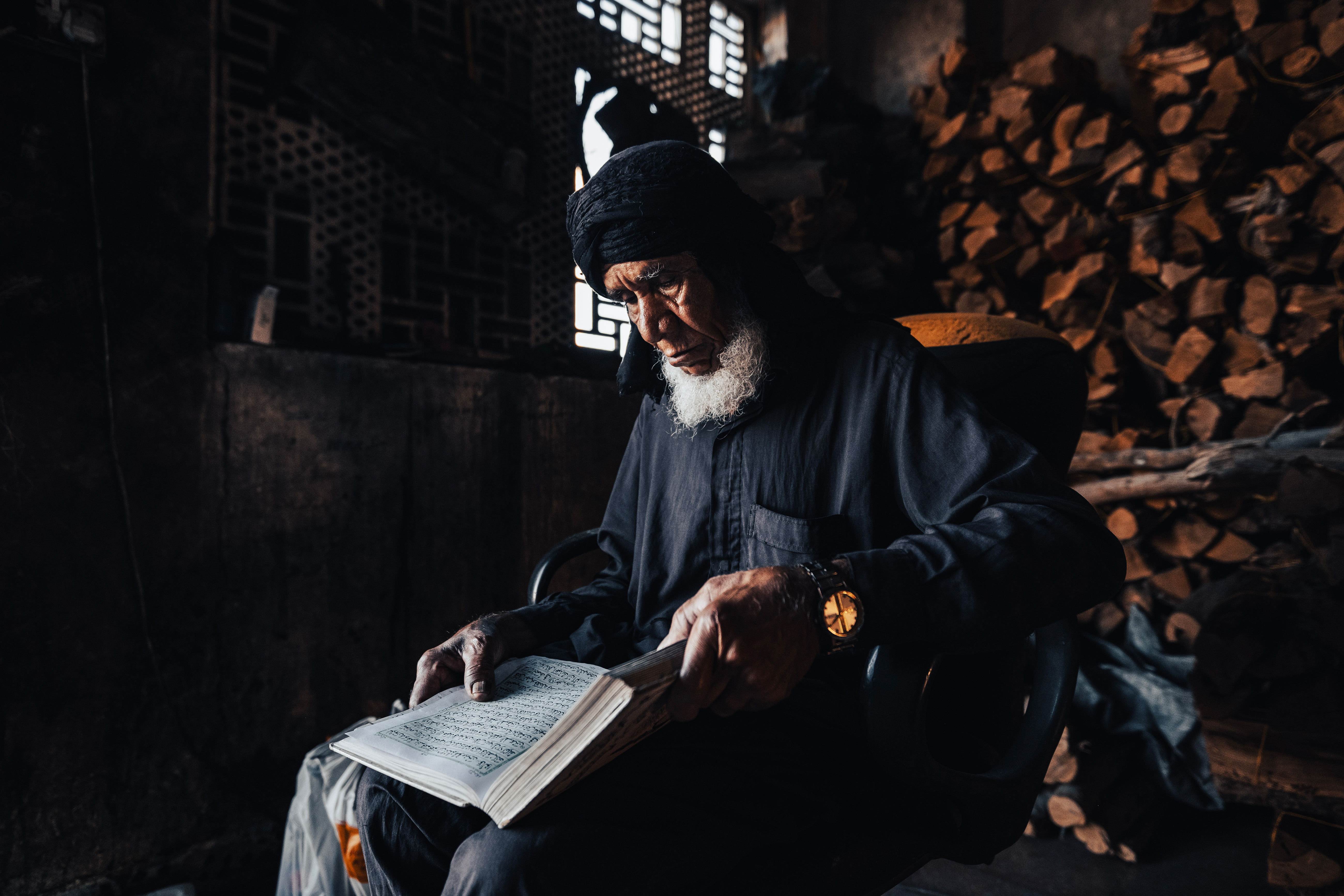 Finalist Prize
Name: Mark Anthony Agtay
Gear: Fujifilm XT-4+Viltrox AF 13/1.4 XF
Date: June 2nd,2023
Theme: Old Charcoal Worker


Finalist Prize
Name: 陈灿铭
Gear: Sony A7R3A+Viltrox AF 16/1.8 FE
Date: May 28th,2023
Theme: 维港之夜(Victoria Harbor Night)
Creative Intent:在维多利亚的夜幕降临之际,使用全新发布的唯卓仕16MM F1.8超广角镜头,只需单张构图,即可将整个维港地标建筑尽收眼底,再配合2.35:1裁切画幅,电影感油然而生。(When night falls in Victoria Harbour, using the newly released Viltrox 16MM F1.8 ultra-wide-angle lens, you can have a panoramic view of the entire Victoria Harbor landmarks with just a single composition, and with the 2.35:1 cropping format, The sense of cinema arises spontaneously.)



Finalist Prize
Name: Mg Prime
Gear: Fujifilm XT-2+Viltrox 85/1.8 XF
Date: June 3rd,2023
Theme: Waiting for the rain ( Wildlife)
Creative Intent:When industrialization flourished and grazing lands were lost.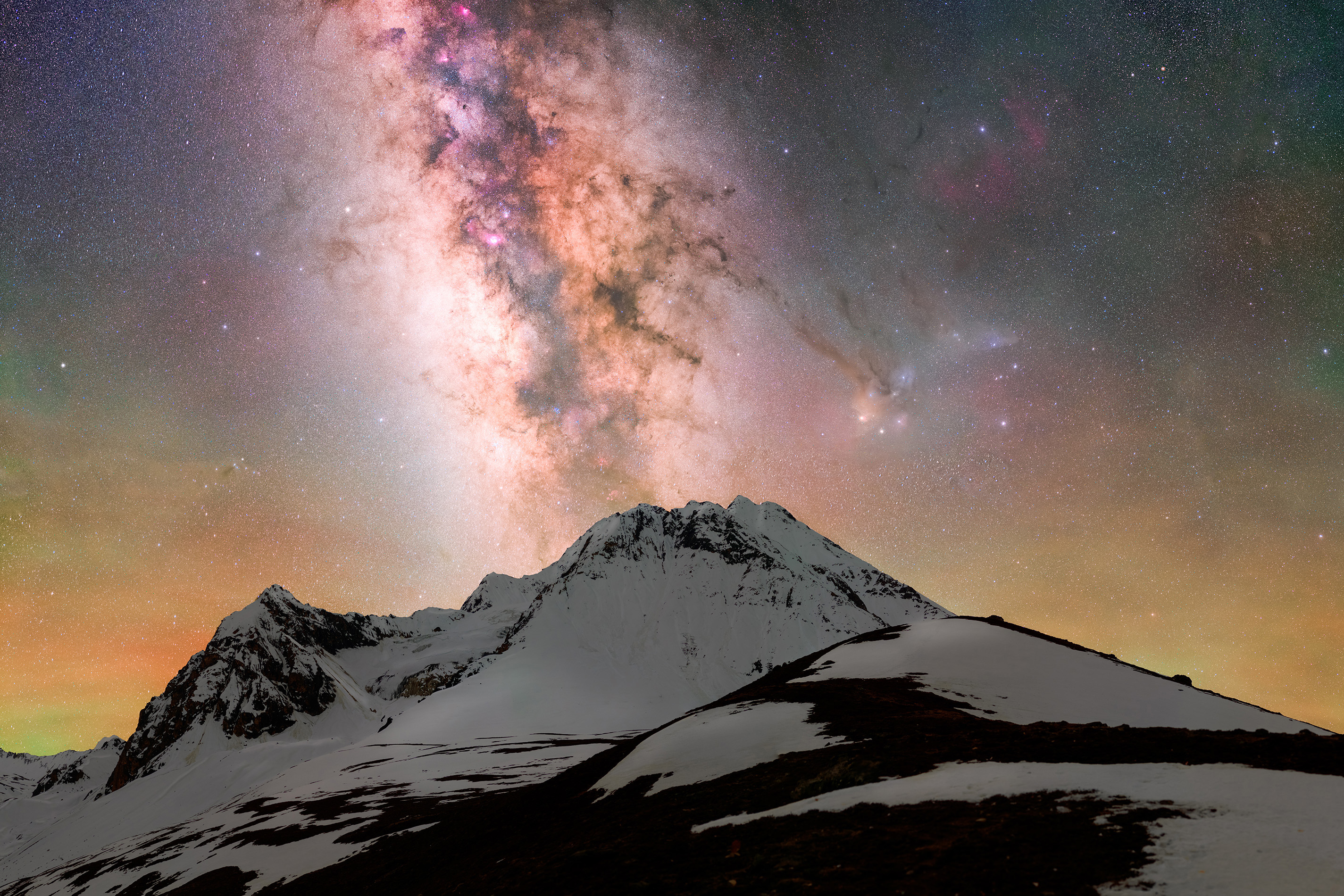 Finalist Prize
Name: 宋贤
Gear: Sony A7S(Astro)+Viltrox 85/1.8 II FE
Date: May 29th,2023
Theme: 德姆拉山的星空 (Starry Sky of Mount Domla)
Creative Intent:经历了一路的阴雨和颠簸,走完丙察察后终于遇上晴天,染病的身体也恢复活力,我便等待银河升起,架起相机,用85mm镜头配合赤道仪拼接出了这张雪山银河,记录下祖国西部的大好河山与绚烂星空,行程虽已走完大半,但这只会是个开始。(After going through the rain and bumps all the way, the sunny day finally came after walking Bingchacha, and my sick body recovered. I waited for the Milky Way to rise, set up my camera, and used an 85mm lens and an equatorial mount to stitch together this snow-capped Milky Way , to record the great rivers and mountains and the gorgeous starry sky in the west of the motherland. Although most of the journey has been completed, this is only the beginning.)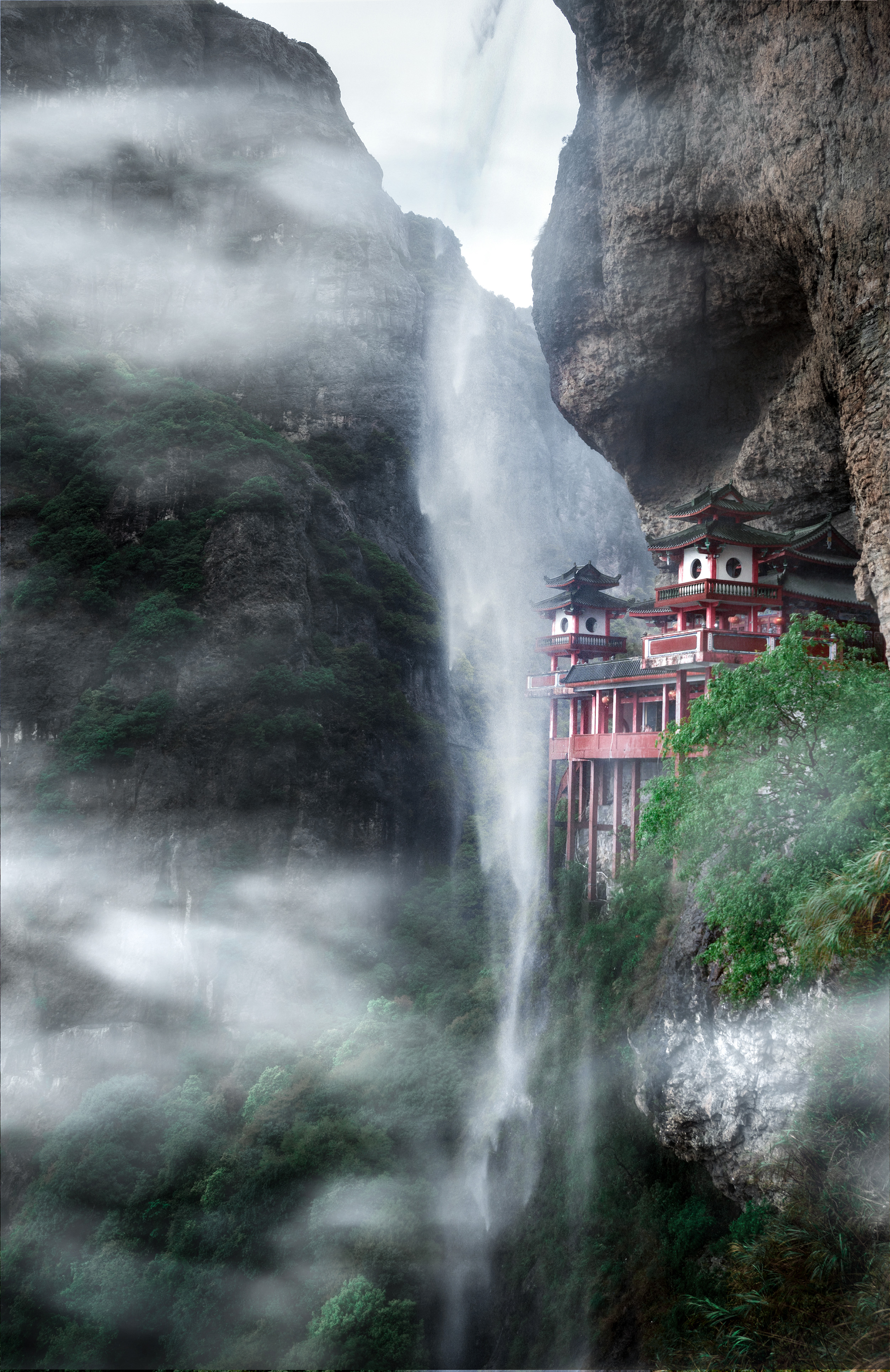 Finalist Prize
Name: 吴嘉榕
Gear: Nikon Z6+Viltrox AF 35/1.8 Z
Date: March 27th,2023
Theme: 珠帘化雨(Rain Like a Waterfall)
Creative Intent:灵通岩上的这座悬空飞寺并非存在瀑布,是只有下大雨的时候,上面才有水流下来,而形成瀑布的景观,只有冒着大雨拍摄,才能定格到这种云雾缭绕的感觉,仿佛置于仙境一般。(The floating flying temple on Lingtong Rock does not have a waterfall. It is only when it rains heavily that water flows down from above, and the landscape that forms a waterfall can only be captured by taking pictures under heavy rain. Fairyland in general.)
--------------------------------------------------------------------------------------------------------------------

Special thanks to the sponsors of this photo contest!
VILTROX Global Photo Contest 2023 Winner Announcement